History
Since 1930, the Josiah Macy Jr. Foundation has devoted itself to the promotion of health and the relief of suffering.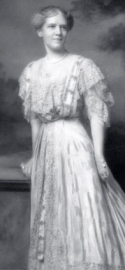 Kate Macy Ladd established the Josiah Macy Jr. Foundation in 1930 to honor the memory of her father. Ladd intended the Foundation to devote itself to the promotion of health and the ministry of healing.
Ladd's father, Josiah Macy Jr., was an eighth generation descendant of Thomas Macy, who emigrated from England in 1635. In 1659, Thomas Macy and nine other men purchased Nantucket Island (then a part of New York) to seek religious freedom.
Six generations and nearly 200 years later, Josiah Jr.'s grandfather, Captain Josiah Macy, left Nantucket and established a successful shipping firm in New York City. Under Captain Macy's sons and grandsons the firm prospered, opened one of the first oil refineries in New York, and ultimately was purchased by the Standard Oil Company.
In 1876, Josiah Macy, Jr. – known as a prominent philanthropist – died of typhoid fever at the age 38. The family's philanthropic tradition was continued by his daughter, Kate, who by the time of her death in 1945 had given the Foundation $19 million. This endowment has grown and represents the sole source of the Foundation's funds.
In a letter outlining her vision for the Foundation, Ladd wrote:


"It is my desire that the Foundation in the use of this gift should concentrate on a few problems rather than support many undertakings, and that it should primarily devote its interest to fundamental aspects of health, of sickness, and of methods for the relief of suffering. To these ends the Foundation might give preference in the use of this fund to integrating functions in medical sciences and medical education for which there seems to be particular need in our age of specialization and technical complexities. The Foundation will take more interest in the architecture of ideas than in the architecture of buildings and laboratories."

Until 1945, the Foundation focused its grantmaking on medical research in such fields as traumatic shock and war-related psychiatric disorders, geriatrics and aging, arteriosclerosis, genetics and human development, and psychosomatic medicine. The Foundation's extensive conference and publication program was also started during this period.
From the end of World War II through the mid-1960s, the Foundation shifted its focus to support the efforts of medical schools to expand and strengthen their basic science faculties. During that time, the Foundation also began supporting the emerging fields of basic reproductive biology, human reproduction, and family planning, and fostered their incorporation into the biological, behavioral, and social science bases of academic obstetrics and gynecology.
Since the mid-1970s, the overwhelming majority of the Foundation's grants have supported projects that broaden and improve medical and health professional education.
Today, it is the only national foundation solely dedicated to improving the education of health professionals.

Past presidents of the Josiah Macy Jr. Foundation:

June E. Osborn, MD: 1996 – 2007
Thomas H. Meikle, Jr., MD: 1987 – 1996
James G. Hirsch, MD: 1980 – 1987
John Z. Bowers, MD: 1965 – 1980
Willard C. Rappleye, MD: 1941 – 1965
Ludwig Kast, MD: 1930 – 1941